<< Back
Lejla Vehabovic11 November 2019 at 12:00AM
International Project Management Day
The International Project Management day (IPM day, 11/7/2019) is intended to encourage project-based organizations worldwide or organizations who utilize project management methodologies to schedule some type of recognition event within their organizations or coordinated locally with others to truly demonstrate appreciation for the achievements of project managers and their teams.
This year marks the 50th anniversary of PMI and the members are celebrating by pledging 100,000 hours of global volunteer service. The Central Iowa Chapter, CIC, is the local chapter of PMI and contributed to this total by actively volunteering in our community. For IPM day, a few PMI-CIC board members visited the Principals of Management class at DMACC in Ankeny. It was a great opportunity for students to understand what our profession is and how they can benefit from it. We educated students on project management process, discussed our current projects, as well as, benefits of becoming a PMI of Central Iowa member.
Reference: http://internationalpmday.org/about-ipm-day/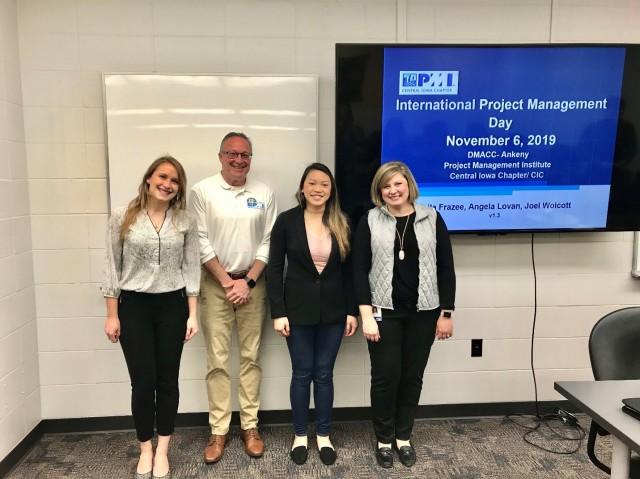 Left: Lejla Frazee, Joel Wolcott, Angela Lovan and DMACC Business Instructor, Elizabeth Crandon. 
​
Iowa's Governor Acknowledges PMI-CIC on International Project Management Day
Iowa's Governor Kim Reynolds noted the positive contributions of PMI-CIC and central Iowa project managers with the following International Project Management Day declaration: