<< Back
Charity Dunwoody03 March 2019 at 12:00AM
Local Opportunity for PDUs from PMI Registered Education Provider – Member discounts available!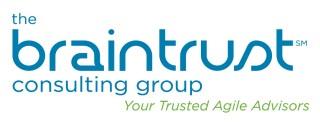 For the past ten years, The Braintrust Consulting Group has built and served the Agile community by expanding its reach throughout the United States and offering the latest in training, coaching, and certifications. Braintrust has aided in the Agile transformations of well over 10,000 professionals and their organizations. We have held regularly scheduled public Scrum classes in the Des Moines area for many years and have also provided private training and coaching to numerous clients in central Iowa.
We have been privileged to sponsor PMI Central Iowa's Professional Development Day for the past six years, and look forward to doing so again this year. Because of this ongoing partnership, we offer Chapter members a $100 discount on all public Scrum classes and, as a Registered Education Provider for PMI, we are able to offer PDUs for all of our training opportunities. To receive your discount, just enter PMICIC when registering for any class.
To browse all upcoming classes in Des Moines, visit www.braintrustgroup.com/classes/des-moines
To watch a video about what to expect in a Braintrust class, visit https://youtu.be/c1Y3i15OHrI
We recently ran an early bird special of $995 per person on our March Certified ScrumMaster (CSM) and Certified Scrum Product Owner (CSPO) classes in Des Moines. Although that offer has expired for the general public, we are extending it until March 10 for PMI Central Iowa members! To receive this pricing, please use discount code PMICIC_EB.